Posts: 13916
Joined: Wed Aug 10, 2011 5:00 pm
Location: North Yorks
Contact:
[Original thread located
here
]
Cage for a pair of noise-phobic foster bucks
Temporary cage (plastic-eating rat) for a pair of adult does
Beri with all at
Dandelion Soup
1 cat, 50-70 mice, 2x guinea pigs, 2x gerbils, 2x Syrian hamsters, 2x Russian hybrids
looking for new homes
---
Set up for a couple of wee girls: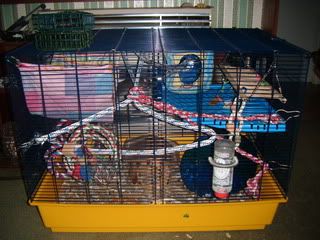 Amy and the Cupcake Rats
Breeding for Topaz/Agouti rex, Mink/Chocolate and Black/Russian dumbo.
Facebook
---
Posts: 1178
Joined: Fri Aug 12, 2011 11:55 am
Location: Derbyshire
my freddy cage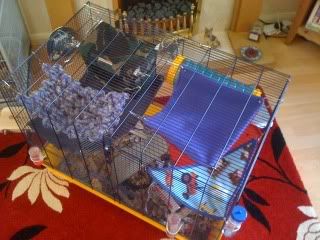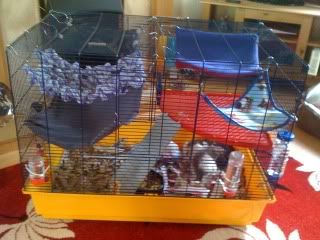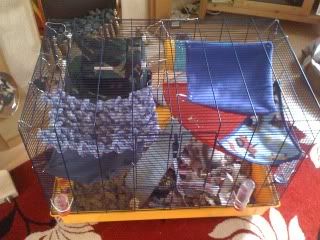 1 german shepherd-Ruby
2 Cats Arthur & Mia
---
Posts: 38
Joined: Tue Nov 08, 2011 4:49 pm
Location: Cambridgeshire
this is my new freddy 2 set up, more fun to be added when they arrive (hurry up postman)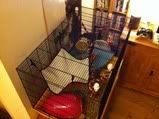 Mummy to Poppy, Pandora, Ruby & Rosie
---
Posts: 662
Joined: Sun Sep 11, 2011 10:48 pm
Location: Leeds, West Yorkshire
Contact:
My naughty girls have chewed through three hammocks in three weeks, so I bought them a lovely soft shelf (from cosybedsandburrows) and introduced a few more 'hard' toys and equipment into their cage in the hopes they won't eat it.
Two sputniks, many cardboard tubes, a wooden bridge, a wooden ladder and a crocodile chew
Mummy to: Red Light Indicates Doors Are Secured, Sugar Coated Accident, Violet Hill and Paracetamoxyfrusebendroneomycin.
RIP to the many at the bridge xx
---
---
Here's my cage set up all ready for the arrival of my 3 bucks later today
I've got plenty of tubes, hammocks and boxes so I can switch things around in their cage once I figure out what they like!
---
Posts: 99
Joined: Mon Aug 20, 2012 8:02 pm
Location: Berkshire
New cage, bit bare as it has our 2 new littleones in, they seem to like it though
Helen x

Maggie & Pepper(Callisto) Ratzilla(Halcyon) Millicent, Rita, Daphne & Velma(Sidney's safe house) Mavis & Martha(Callisto)

Remy & Shaggy(twilight) Oscar & Fred(firesev)

Oh.... also a moody hubby, 3 children & a loony dog Scooby, makes a mad but happy home xx
---
Posts: 1178
Joined: Fri Aug 12, 2011 11:55 am
Location: Derbyshire
My freddy set up with 3 babies in.
1 german shepherd-Ruby
2 Cats Arthur & Mia
---
Finally, after waiting and waiting, I am getting my new baby rats next week!! 3 of them!!
Here is their new home!
Before:
Before:
After:
Just need to ad litter
Mummy to: Izzy my double rex girl. Monkey my chinchilla. Maizy, Jack and Doug my dog's and Henry my axolotl xxxx
---