My furet plus tower, home to 4 cheeky boys:
---
Posts: 488
Joined: Thu Oct 04, 2012 10:26 pm
Location: Manchester
Contact:
My furet plus tower home to Benji and Oliver.
It was actually pretty easy to do, I used the method of sawing 4 of the plastic side holders in half (I just bought a cheap jacksaw for £2.00 from tesco). A few cable ties to keep it tight together made it feel much sturdy. I absolutely love it! I think they do too!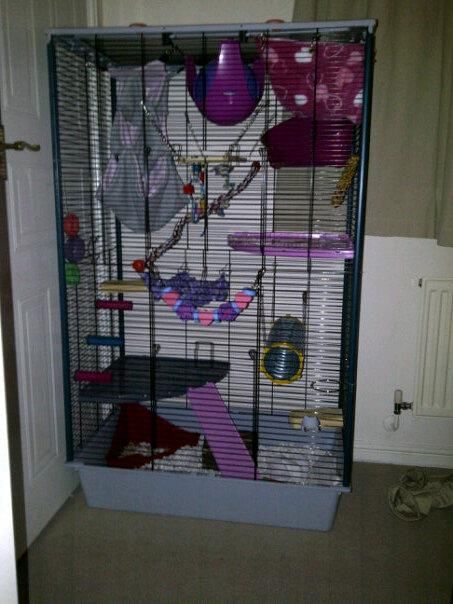 ---
Posts: 194
Joined: Wed Aug 10, 2011 12:12 pm
My current layout for nine girls, four youngsters and one mobility challenged oldie.
Missing those who have left.
---
This tower cage is made from a Freddy and a Jenny which had been cut down to a little bit bigger than a Mary. Am on the look out for a full sized Jenny to add to it now, as I really don't want to have to take my double SRS apart!
Currently housing 16 fast growing baby boys.
Whole thing:
Top:
Bottom:
No more ratties
Dogs - Ollie & Mimi
---
I'm at my parents' house for my summer holidays and the boys usually stay in the Furet Plus - but since I'm back for an extended period of time, I decided to give them more space. So behold the Nero Plus frankencage! Set-up is for two 10 month olds and an oldie with severe HLD, bit limited as I don't have a lot of cage furniture at this house.
Sarah
Mum to Quicksilver Gyre & Black Dumbo Gimble
RIP my beautiful boys Dylan, Domino, Dexter, Titus, Pike, Io and Pan
& past girls: Noodle, Pax and Pinky
---
A couple of Flight 400's made in to towers, left one with a cut down Jenny, right one with a Mary - both have holes cut in the base for ratty access.
No more ratties
Dogs - Ollie & Mimi
---
After the babies chewed the mamble base (a 2wk old cage!!!) i decided to make a double mamble using my other one. Its the 100cm base, still some bits to go in but you get the idea, this is permanent home to my 5 girls and has 10 babies in it (until their all metal brio arrives)
Boys: Iggy, Bebop, Rocksteady, Rhidian, Maurice, Dangerous Beans, Hamnpork, Magneto and Xavier... and Ned the Gambian.
Girls: Hotdog Princess, Isis, Rhoda, Lady, Kayla and Doris
---
My double freddy max, bit bare was still adding things and faffing on with the overall layout when I took this photo, still waiting on acrylic to arrive to make the base deeper (its a baking tray right now!), wanted a totally metal cage because the cage is in an area acessible by my cat and dog. Two battered sets of bars were scrubbed down and sprayed, held together with metal plates and cable ties with a baking tray inside as a base. Total cost around £40 Currently home to 4 boys.
The Silly Sextet: Theodore (Siamese), Humphrey (Siamese dumbo), Albert (Siamese dumbo), Percival (Siamese dumbo), Duncan (Champage bareback dumbo) & Clive (Black hooded)
---
Posts: 450
Joined: Sat Dec 01, 2012 11:58 pm
Location: South Shields
Home to my 4 manic boys!
Hannah;
Samson, Ralph, Kit, Jeffrey, Benny and Sherlock
Fluke, my gorgeous pooch!
Rory
---
---
My Freddy-abode tower. Lots of climby things for 2 crazy girls
Cara,
Owned by Lilly, Rose & Daphne
Missing Snippet, Frost, Willow, Nix, Fern, Heidi, Fizz, Micha, Bubbles, Bee, Asteroid & Gypsy
---
I thought it was about time I added a photograph of our cage. It's a Savic Freddy joined with a Jenny cage to give more height. It's serving our two girls well, with two new girls expected soon to make 4
Four beautiful girls, Lady B, Meow (MaoMao), Miss Winnie & Jinx
---