For my old boys
Jenna and the rats of Hakuna Matata
Breeding for Siamese, Black and Russian Blue.
The artist formally known as aquajen9!
---
My Furet Tower, it's split into to two cages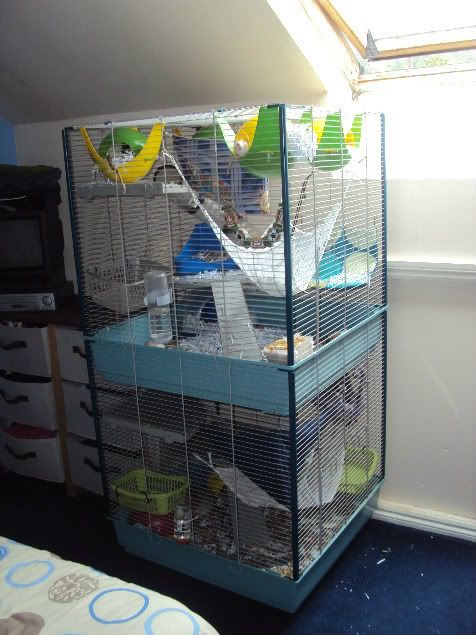 Top half home to five lads
Bottom half home to three lads
Becky - slave to the ratties!
Missing all those who've passed
---
Emzii
& Dug, Queenie, Poppy, Mini, Sandy, Squirrel, Zelda, Tiff, Badger, Noula, Minty, Misty, Diesel, Cookie, Jerome, Robson, Nova & Bandet.
R.I.P~ Alvin, Theo-Deo-Door, Chace, Mitcy, Ice, Evo, Pebbles
---
Posts: 530
Joined: Fri Aug 26, 2011 8:52 pm
Location: Basingstoke
Here are my two furret XLs current set up.
Girls: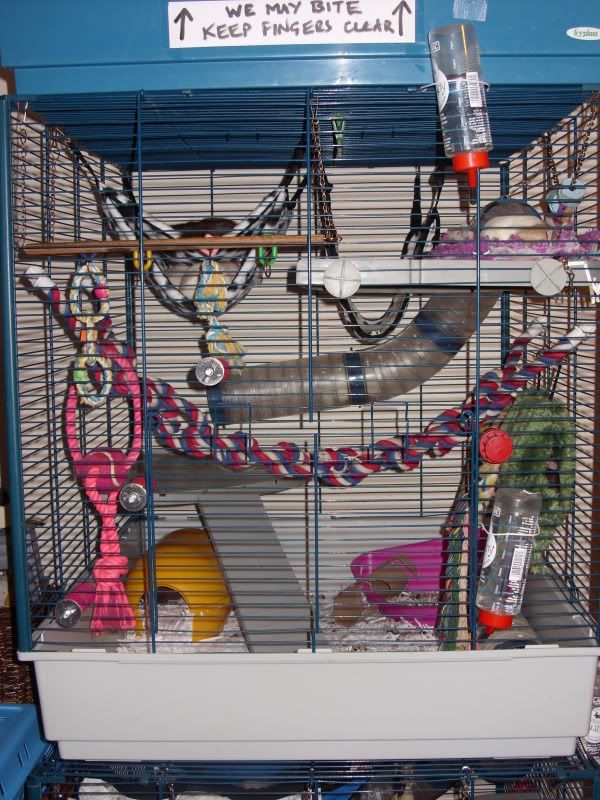 Boys:
Shelley; DW Fozzy Joker Badger Tricky Baileys Jack Billy Roland Sirius Orion Perseus Sorrel Teasel Ash & Rowan. The girls: Minuit Rosie Pippin Tog Pogle & Fenn - And all my many many loved furries at the bridge, never forgotten in our hearts xx
---
First go at setting up my boys XL. Using it as a holiday cage for when they're at my parents (and my aunts next month).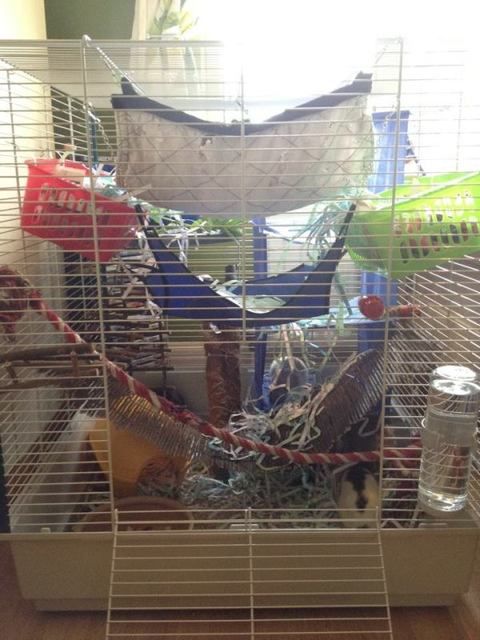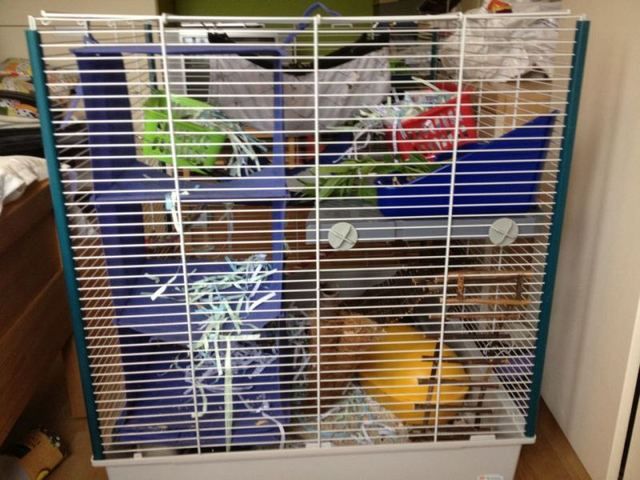 Chaplin & Arthur the buns, Rory the Labrador
---
Posts: 137
Joined: Wed Aug 24, 2011 10:26 pm
Location: Luton
Last Saturday I spent nearly 4 hours cleaning, modifying and setting up my Furet tower. I've seen posts on here where people took out the base between the levels and I decided to follow suit. I had a big apple tree branch which I put in the centre of the cage and an old pillow as a nesting place across the top. The boys love sleeping inside the pillow.
Brian, Mick and Keith. Blaze.
Gone but not forgotten: My first rats: Spot 21 months, Shortstripe 33 months, Longstripe 34 months. My four dumbos: Poseidon 27 months, Hermes 29 months, Apollo 32 months, Zeus 32 months. Daryl 26 months. Phil 20 months, Merle 37 months. Shadow 19 months.
---
Posts: 13916
Joined: Wed Aug 10, 2011 5:00 pm
Location: North Yorks
Contact:
Furet XL for 26 and 20 month bucks, 2x 23 month and 1x 21 month spayed does
acapae_wolf in http://fancyratsforum.co.uk/viewtopic.php?f=41&t=27367&start=15#p266006

wrote:It's annoying me that the litter tray is being pulled out of shape (I put it in before the branch, which proved very complicated to secure). But other than that whole saga (and not being able to find a very specific rope) it was a pretty fun layout to do

Spending 2.5weeks in a C2 as part of Whin's reintroduction/ slowly building muscles up again seems to have hit Fen mobility-wise quite hard. I might have to make the layout easier in a bit, although I'm hoping that Fen's muscles and balacing ability will build back up again instead. For now, having watched him struggle and fall doing relatively simple manoeuvres, I've made a couple of alterations to the above:
Beri with all at
Dandelion Soup
1 cat, 50-70 mice, 2x guinea pigs, 2x gerbils, 2x Syrian hamsters, 2x Russian hybrids
looking for new homes
---